The Sanctuary is about four kilometres from Monterosso. It is possible to arrive by car but it is much more impressive to arrive by way of the footpath from the village. This sanctuary, dedicated to Our Lady of Soviore, is situated on a plateau overlooking the valley of Levanto to the west and to Vernazza towards the east. A legend narrates that this structure was built on the site of the ancient hamlet of Albareto. The actual Sanctuary is a long structure, covered with pink intonaco, the church is composed of one nave and four lateral chapels......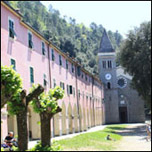 La Via dell'Amore (The Pathway of Love)
This trail is called the Via dell'Amore, it leaves Riomaggiore and reaches Manarola, and is probably considered the most famous trail of the Ligurian coast and of the entire Italian peninsula. Sculpted into the live rock, while hugging the cliffs, it seems suspended between the sea and the sky. Below, the waves seem to menace its stability. On a sun filled day it represents the platonic idea of beauty, in a storm the trail is transformed into an overwhelming experience.....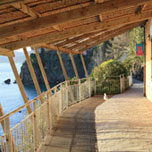 According to some, the unique beauty of the Cinque Terre with its colourful villages is tinged with a small defect; its beaches. In fact there are just a few and it is not easy to find a suitable place to swim. This, of course is not true of Monterosso. Here the beaches are beautiful, in fact in 2007 the periodical "Forbes" added these to it's list of the 25 most sexy beaches in the world. The beaches are easily accessible especially if you arrive by train, in fact the Fegina beach is right across the street from the railway station, and spreads to the left and to the right.....